Smart traffic control for highways and
high-performance roads.
Counteracting high traffic loads
MyHighway traffic management software counteracts high traffic loads on highways and freeways by dynamically reacting to changing road, weather and traffic conditions and regulating traffic.
Intelligent traffic management
Intelligent traffic management increases traffic flow by temporarily expanding road capacity, resulting in reduced queuing times and consequently shorter travel times. Furthermore, the fast and responsive signaling to road users increases traffic safety in acute danger situations.
Dynamic measures
Dynamic measures, such as the harmonization of traffic speed or the use of hard shoulders, regulate traffic actively and depending on the current traffic situation.
Shorter travel times - reduced environmental impact
The intelligent traffic management system MyHighway defuses peak loads, reduces congestion & subsequent accidents and makes a lasting contribution to more environmentally friendly traffic.
Through central control and management of traffic, problematic stretches of road can be flexibly relieved and travel and idle times reduced, which directly contributes to a reduction in air pollution.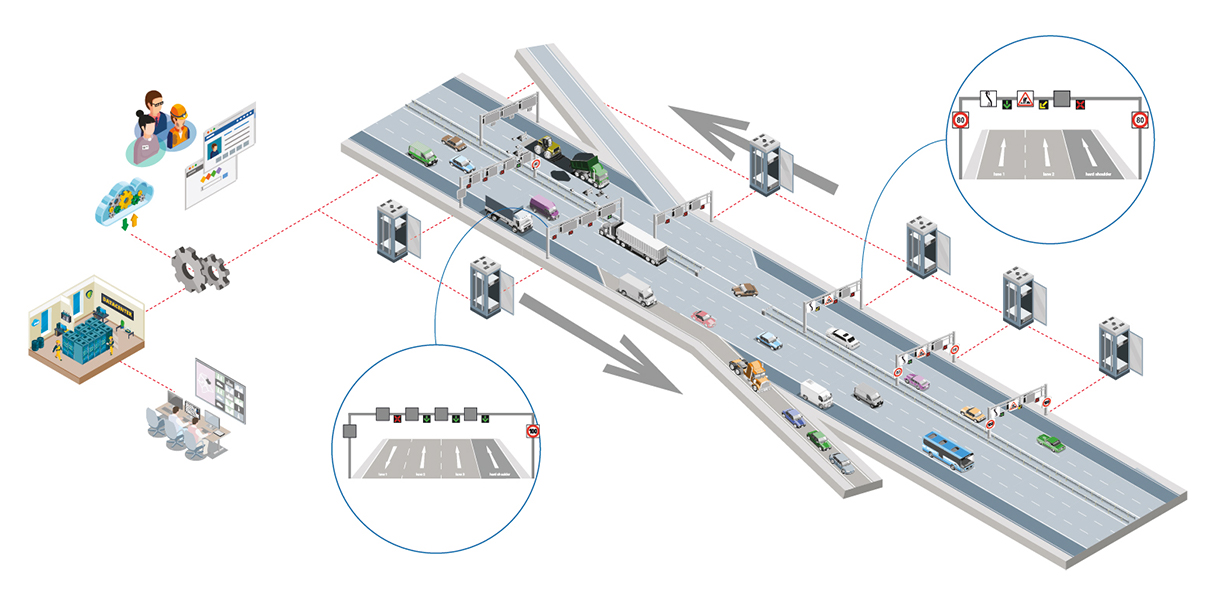 Advanced control logic
A large number of sensors and detectors, which are installed at regular intervals along the road, monitors the traffic situation and continuously transmits their measurement data to the MyHighway traffic management system.
Through using advanced control logic and the real-time analysis and processing of the traffic data, the traffic is actively managed across multiple road sections and the entire infrastructure.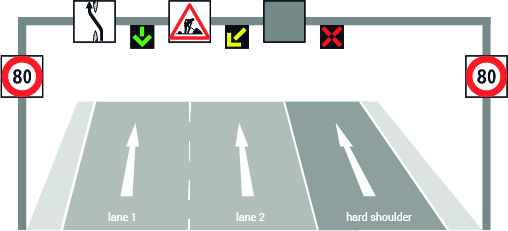 Immediate action through semi-automatic intervention
MyHighway's intelligent algorithms and semi-automatic processes enable the immediate response to changing traffic conditions and support the work of operators in higher-level traffic control centers.
MyHighway offers a range of automatic and semi-automatic measures that optimize traffic flow and mitigate critical situations, such as congestion and accidents, before they even occur.
The measures are implemented directly via dynamic variable message signs, which indicate the maximum permitted speed to the road users as well as upcoming detours and lane closures. The status changes of the displays are controlled directly from MyHighway and are also partially automated.
Real-time visualization
The MyHighway user interface provides a real-time representation of the current traffic situation, mapping the state of the entire system instantly and realistically.
Dedicated, interactive map and section views give the operator a comprehensive overview while providing innovative tools for the direct intervention in traffic events.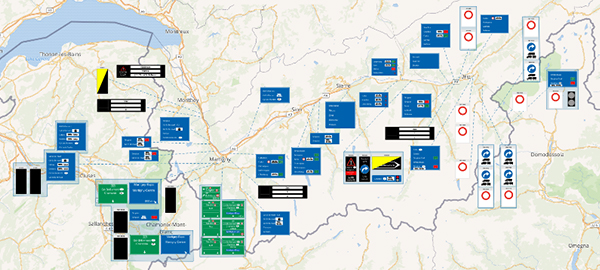 Detailed route views
In addition to the higher-level map view, schematic route views provide an even more detailed image of the system and clearly display the current statuses of the variable message signs for all lanes simultaneously.
In addition, the operator has the option of previewing future signals, i.e. signals that are yet to be switched.

Visualization of the current state of the traffic signalisation of all road sections.

Preview of a suggested state of the traffic signalisation of all road sections.
MyHighway at a glance
Central software platform for the monitoring and control of traffic highways and high-performance roads
Traffic flow optimization improves traffic situations
Intelligent data analysis and processing as well as control algorithms for recording and controlling the traffic situation
Mitigation of peak loads and traffic jams
Reduction of standing and travel times to reduce environmental pollution
Speed harmonization and hazard warning
Convenient and immediate traffic guidance in case of accidents, incidents and construction measures
High integrability and user-friendliness of the software solution
The option of a hosted solution as-a-service to reduce investment costs
Added value for road users
Traffic optimization reduces hazards and obstructions
Intelligent traffic management improves traffic flow, shortens travel times and increases safety
The relief of traffic congestion ensures less stress and a more relaxed climate in road traffic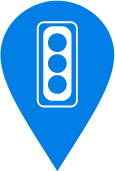 Traffic Control


Providing comprehensive tools for effective and dynamic traffic management.

Congestion warning
Reduction of secondary and rear-end collisions by anticipatory signaling of hazards.

Use of Hard Shoulder
Extension of road capacity in case of traffic congestion.

Construction Management
Detailed management of ongoing and planned road works.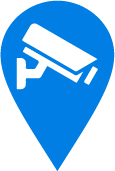 CCTV Monitoring


Integration of CCTV systems for detailed video monitoring.


Lane Control

Regulation of traffic over single and multiple lanes.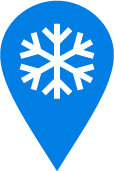 Ice & Snow Warning
Anticipatory ice, snow and icy conditions warning for timely dispatch of winter service.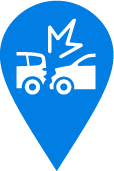 Accident Management
Taking immediate action in the event of accidents and critical incidents.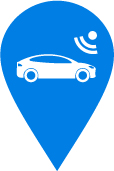 Traffic Measurement
Acquisition of measurement data for analysis and evaluation of the current and historical traffic situation.
Smart traffic control for highways and high-performance roads
The innovative management system for tunnel infrastructures.
The central guidance system for urban living spaces