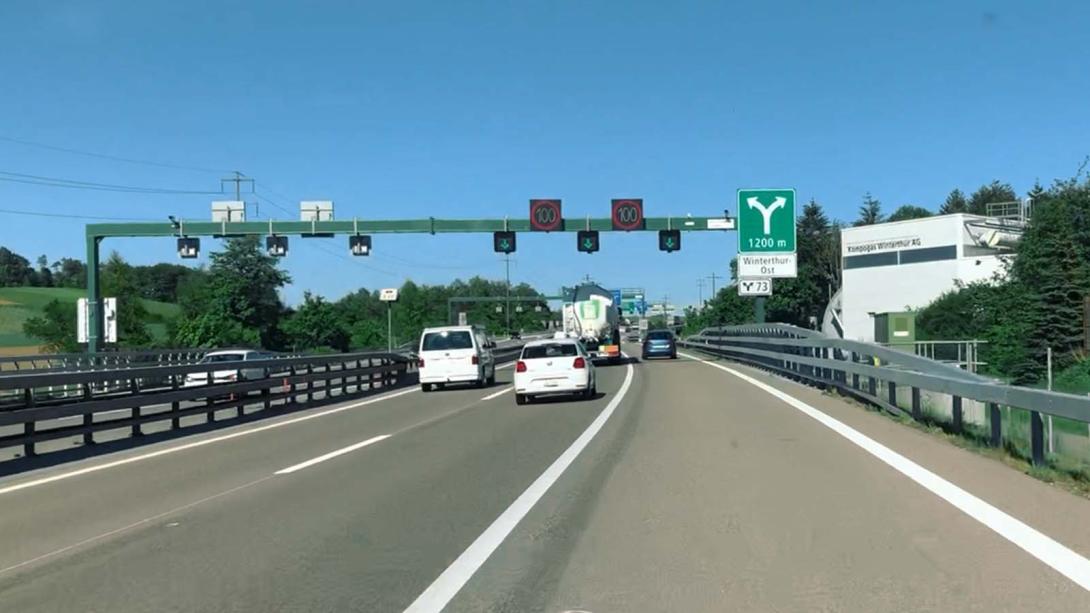 Federal Roads Office, Winterthur Branch (CH)
The new intelligent traffic control logic of the A1 freeway - a clear case for Bergauer AG​​​​​​​

Collisions, traffic jams, injuries and deaths in road traffic - These are the serious consequences of congested roads, poor traffic routing and the lack of regulation of high traffic volumes. To prevent such scenarios in the future and relieve traffic congestion, the Swiss Federal Roads Office (ASTRA) commissioned Bergauer AG, which specializes in intelligent traffic management solutions.
The Winterthur branch of the Swiss Federal Roads Office (ASTRA) engaged Bergauer AG in an open tender procedure to develop a new traffic management system that optimizes the flow of traffic on the A1 freeway between the Winterthur-Ohringen and Oberwinterthur junctions.
Within the scope of the traffic optimization, a new traffic control logic with dynamic operating states was developed which
Improves the traffic flow by speed control (especially in case of traffic congestion)
Regulates the danger signalization in case of accidents or traffic jams
Controls hard shoulder clearance and lane management (before congestion or after events)
Increases traffic safety thorugh the combination of all measures
An exciting pilot project - for everyone involved
As the first system of its kind in Switzerland, the pilot project was a special challenge.
The new traffic control technology is characterized above all by the calculation of dynamically optimized operating conditions, which places high demands on the complex configuration and parameterization of the system.


Smart traffic control for high-performance roads
The delivered, technical control system MyHighway is characterized by:
A powerful, regional traffic computer
Danger warning based on traffic density (occupancy rate) and speed of single vehicle data
Speed harmonization with use of single vehicle data
reuse of hard shoulder based on single vehicle data
Wrong-way driver detection
114 lane signals incl. turn signals in LED technology
38 speed signals in LED technology
15 Hazard signals in LED technology
43 variable message signs in prism technology
4 counting stations for statistical traffic data acquisition
35 overhead radars for recording single vehicle data


The innovative guidance system has numerous advantages
To counteract the high peak loads on the stretch between Ohringen and Oberwinterthur, MyHighway enables the temporary opening of the hard shoulder to all traffic. This measure increases the capacity of the freeway by 50%, as a third lane is added to what is actually a two-lane stretch. Consequently, traffic jams are prevented and the risk of collisions is reduced.
Through the dynamic calculation of traffic conditions, a possible build-up of congestion is predicted in advance, and through the speed harmonization of the traffic flow, the situation can be defused accordingly at an early stage and the actual traffic jam can be avoided. Furthermore, the signalization of danger warnings in case of accidents or traffic jams reduces the risk of subsequent accidents and contributes to an increase in traffic safety.


Key Facts
Project duration: 2018 to 2020
Challenge: New development of a dynamic traffic control logic with complex configuration and parameterization.
Services: Planning, development and execution
Technology: MyHighway - technical control system